Pool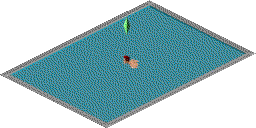 [ INVISIBLE POOL LADDER ]
An invisible pool ladder.
Installation
Go to your Sims 1 installation folder, there should be a folder labeled "Downloads", that is where the object files go.
Regarding the Use of My Mods
- Modifying my mods for personal use is ok.
- Feel free to use my build / buy mode objects as a base, just don't redistribute or modify my graphics.