XZY'S SPYRO THE DRAGON PAGE


Welcome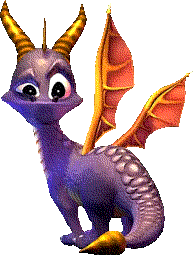 Welcome to Xzy's Spyro the Dragon Page, here you can find info regarding the original Spyro the Dragon trilogy of games developed by Insomniac Games, Inc. and released for Sony's original Playstation console. This fan page will be focusing on the North American releases of the games. Select a game from the menu to get started.
Content Warning:
Spyro the Dragon is a series of games from the 1990's, and while it is a series intended for young audiences it has a very 90's attempt at edginess and does include some material many will recognize as inappropriate. I intend to use this page to document these games and as a result some of the objectionable material will be present, but such material will be hidden behind content warnings.

Updates
[ June 3rd, 2023 ]
Fanart page uploaded.
[ April 25th, 2023 ]
Page uploaded.